Diabetes Takes the Cake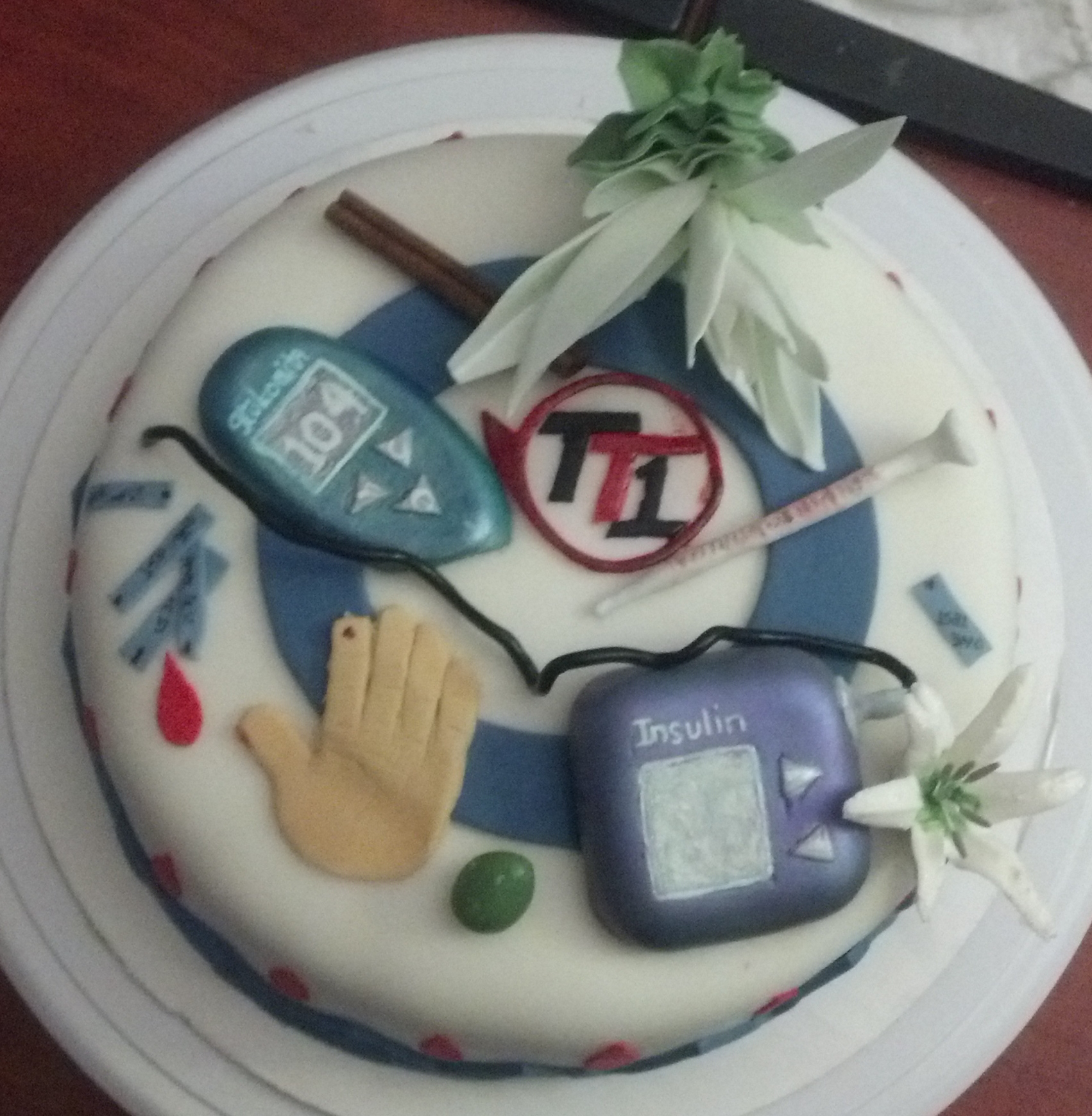 Today is the third annual Diabetes Art Day. Throughout the day, people touched by diabetes will create or upload images illustrating how we feel about diabetes, the impact of diabetes on our lives, or even just how much diabetes trash we accumulate over a given period of time. The media vary from person to person; the message while personal does not. Diabetes impacts every part of our lives, right down to our artistic sensibilities.
Q1. What are you going to do for diabetes art day? or How are you preparing for diabetes art day?#dsma#DArtDay
I responded to this DSMA question with the observation that I pretty much "punted" last year with a quick test-strip piggy and the random thought that I should just "punt" and submit a cake with a World Diabetes Day blue circle. From this developed a short sub-thread on cake and cookie decorating, shaped cookie cutters (of which I have both pig and unicorn shapes), and Wilton classes, pretty much sealing the fate of my project.
It started with a honeycake. Honey, and honeycakes, are traditional for Rosh Hashanah as we wish each other "a good and sweet year". The Latin word for "honey" is at the root of the woman's name Melissa ("honeybee"), the word mellifluous ("sweet sounding"), and the suite of symptoms we live with: diabetes mellitus. The honeycake recipe I tried out this year made two or three cakes, more than we'd need for the holiday. Since this project didn't need more than a single layer of cake, the leftover batter was perfect. I baked it in an 8" round pan instead of a loaf pan to provide a circular surface for decorating.

Since most of the Wilton Method curriculum focuses on flowers, I was interested in flowering plants associated with diabetes both real medications and "snake oil" cures. The images of cinnamon I could find did not look like I could translate it easily to sugar art so I used a re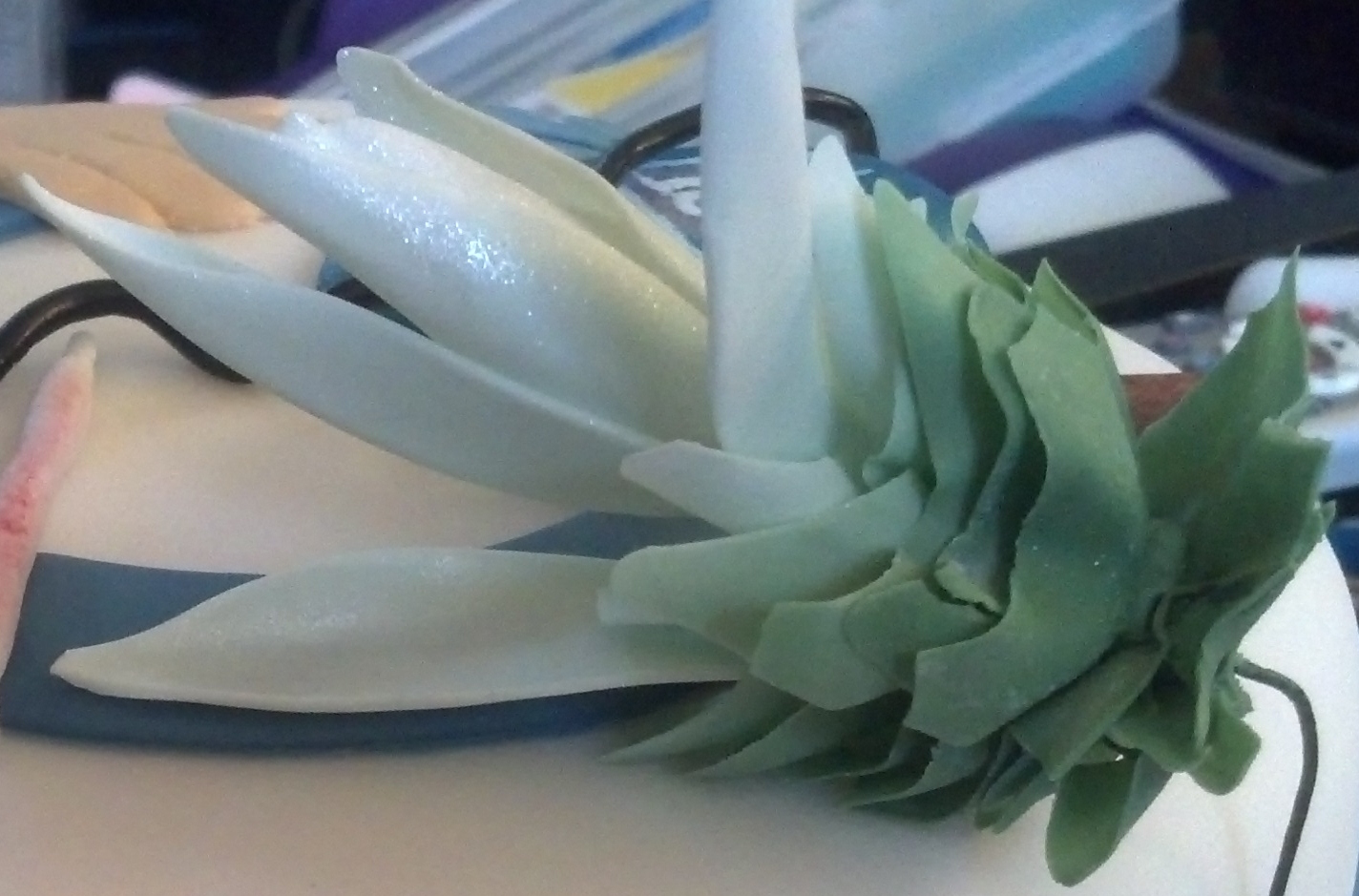 al cinnamon stick instead. Those of turmeric, however, showed potential, and I took a couple of days trying to figure out how to recreate them. (I didn't succeed all that well... but it was a first attempt, without some of the correct formers to get the shape right...)
O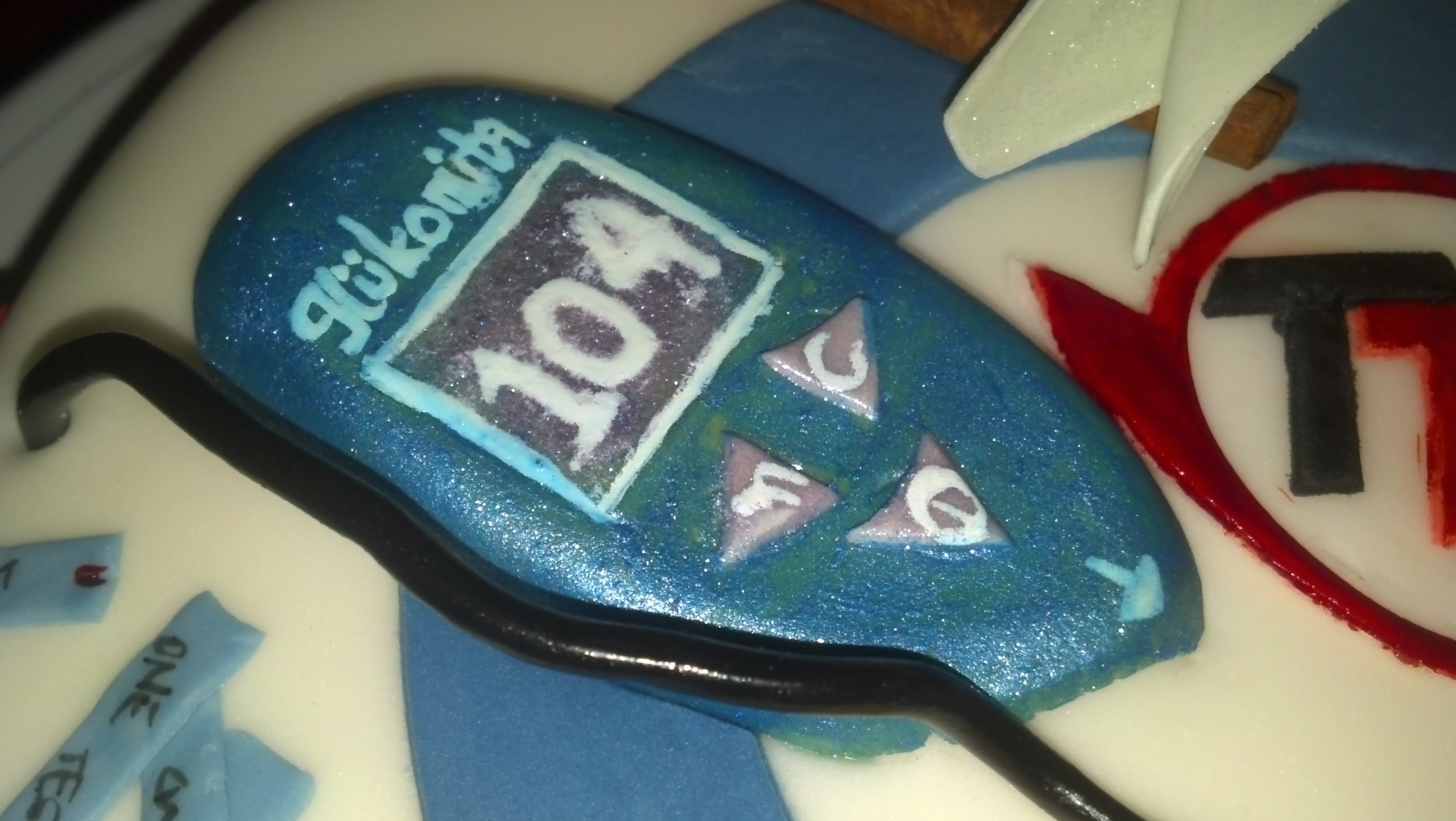 n the "real life" side of the equation, I used the back of my Freestyle Lite to mold a glucometer in gum paste.
Unfortunately, I couldn't find something I could use to mold an image of a real insulin pump, so I had to improvise. String licorice represents the tubing. (I wasn't sure about the insertion sets, so the other e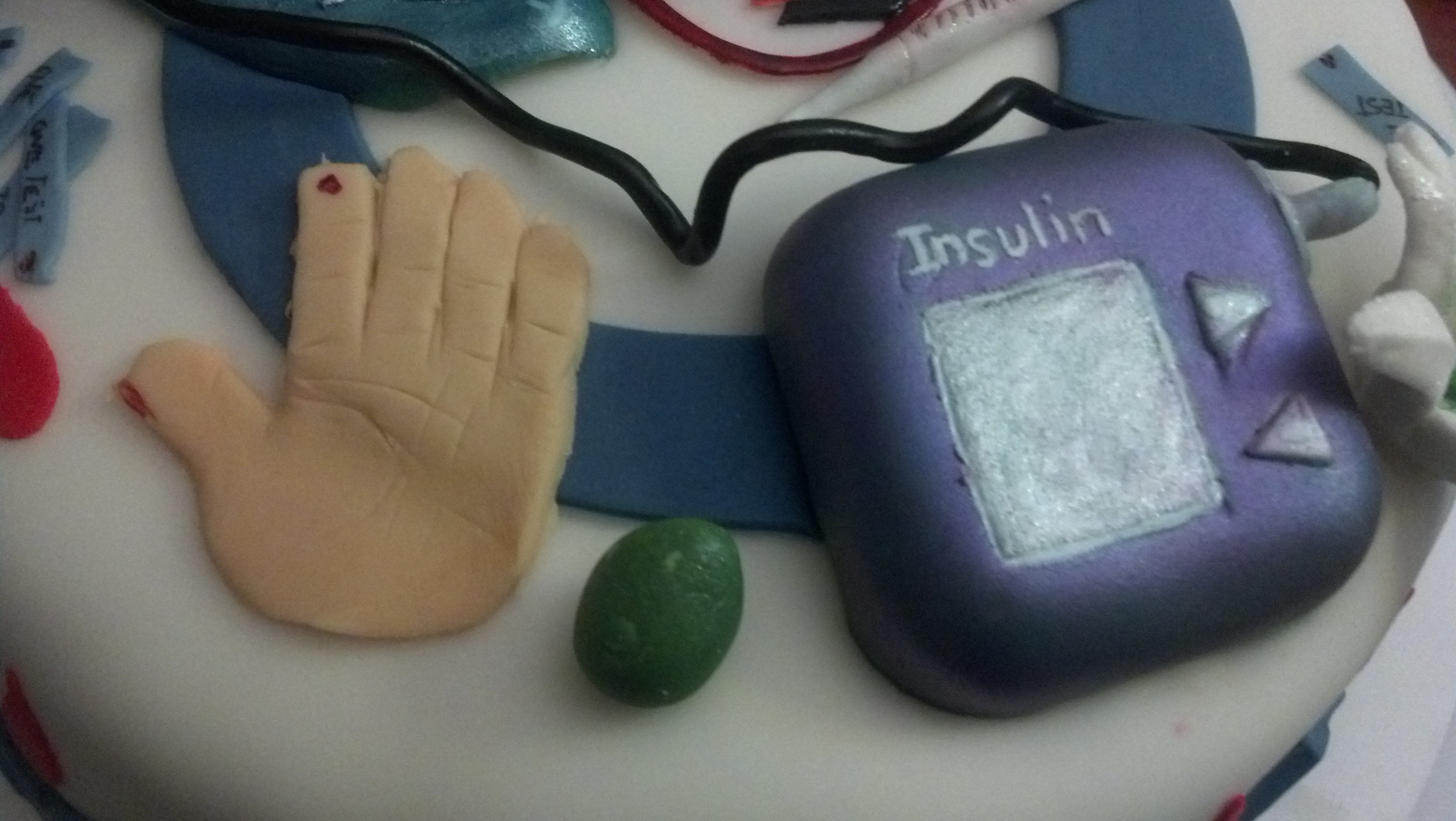 nd of the string inserts directly into the side of the cake.) Of course, I needed a hand with a bloody finger. Which is also the logo for one of the American Diabetes Association's current campaigns.
Little by little, my inventory of diabetes icons grew, until it became complete enough to fill, frost,

and decorate my art project. Along the way, some symbols were dropped as others were added. I forgot the pig, but added a syringe.
I didn't mold the unicor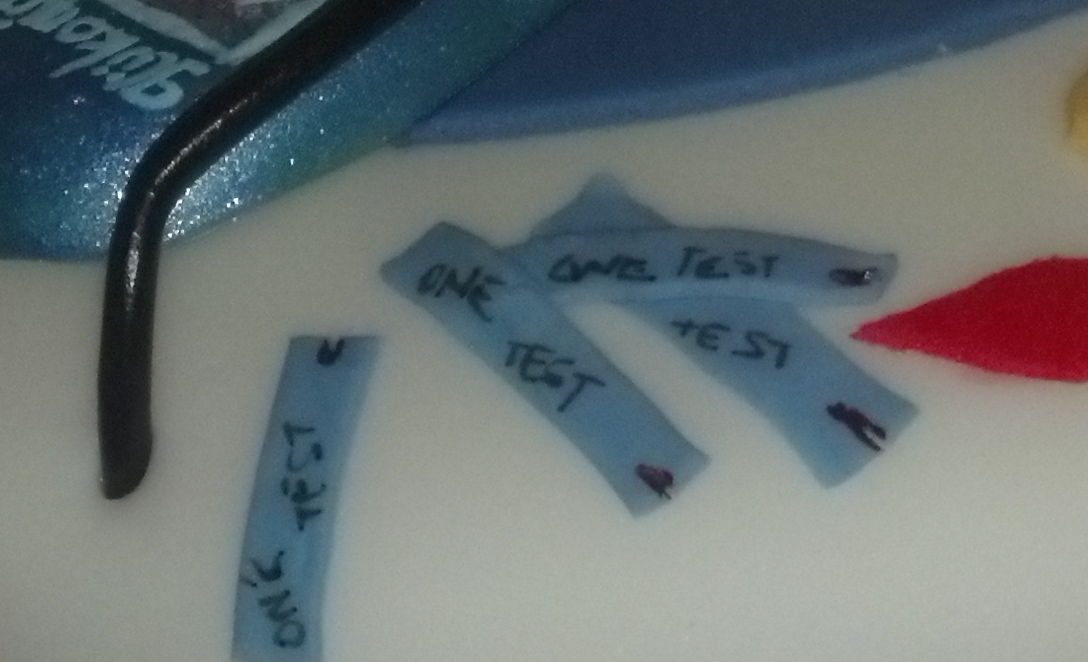 n, but I added test strips for the glittery "glucometer".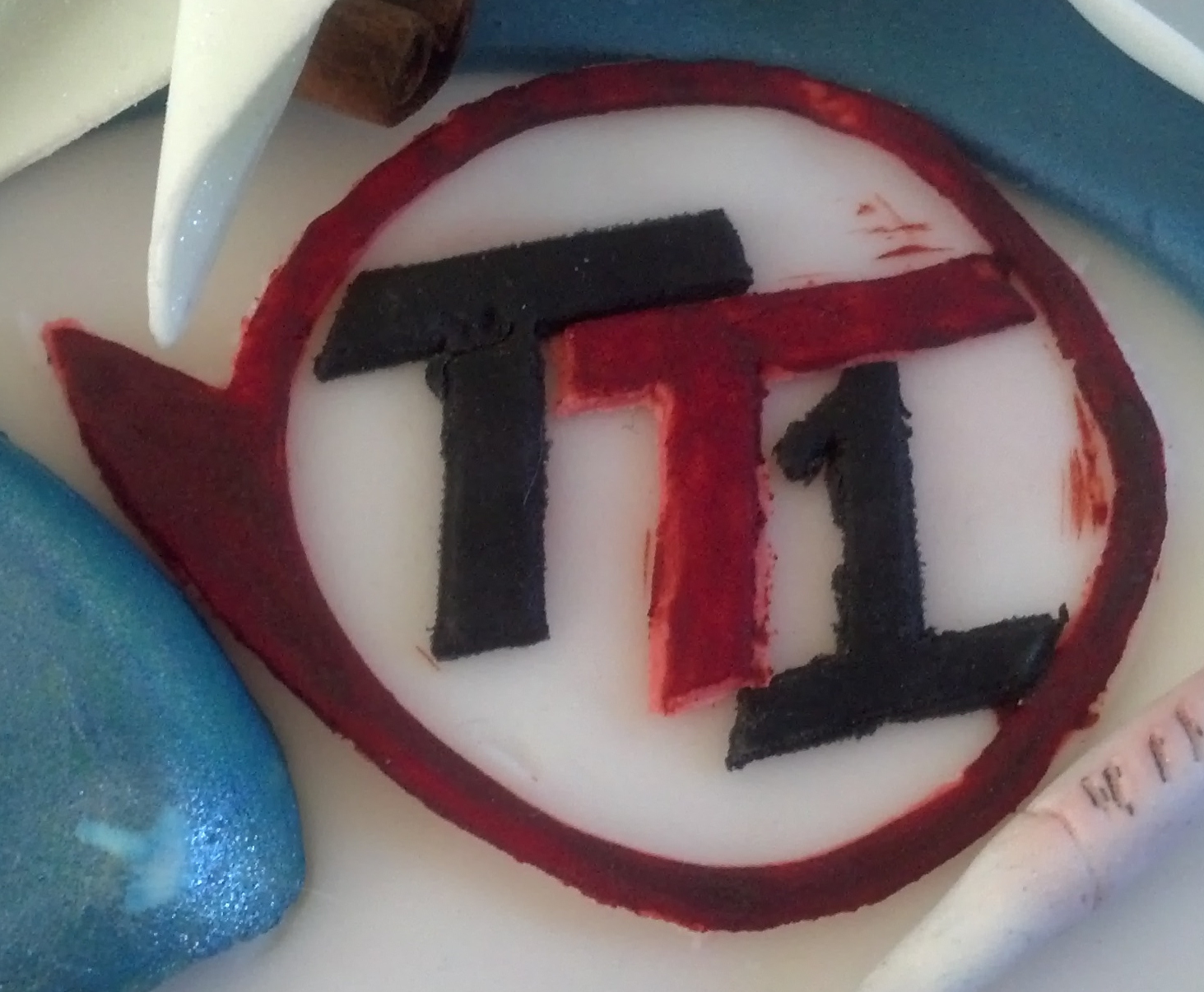 Of course I couldn't forget the Team Type 1 logo.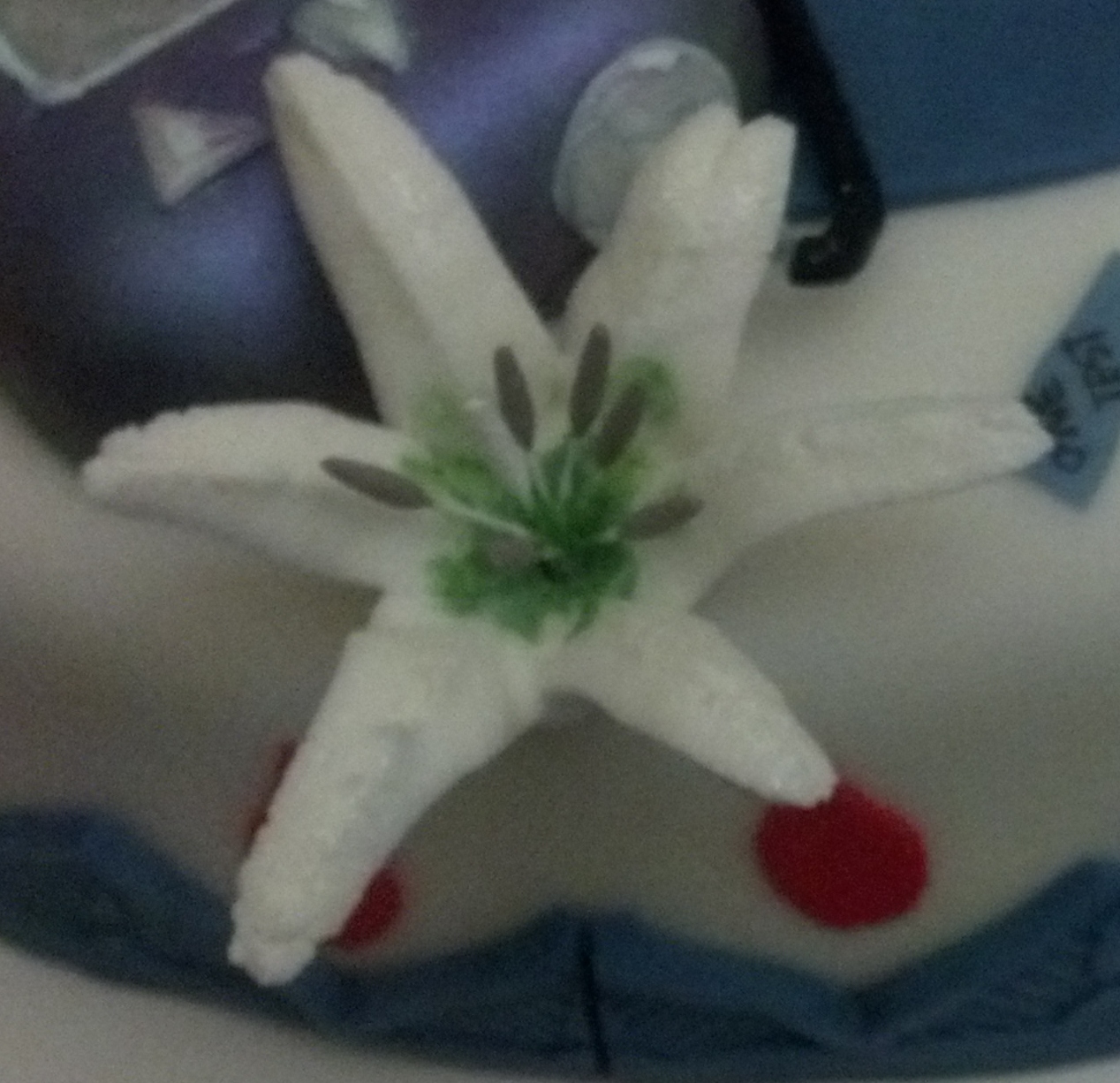 At the last minute, I added a royal icing lily to represent Eli Lilly & Co., one of the first manufacturers of therapeutic insulin.
An error cutting the fondant led to the need for a bottom border. The only border mold I have at present is called "global" a reminder that diabetes is a global issue. Blood drops between each repeat of the molding remind us that blood is ever important in diabetes diagnosis and management. By the time we finish testing, correcting, carb counting, calorie counting, exercising, medicating, countermedicating, doctor-visiting, logging, and flogging ourselves... it really "takes the cake", so to speak.
And so the title.
Email this
Megan Holmes
Megan was diagnosed in 2009 with Type I. As an RN, she was familiar with the medical side of her diagnosis; learning to be a good patient on the other hand, was and continues to be the challenge of her day to day life.
(Read More)
Max Szadek
Wellness With A Wow
(Read More)
Our Other Bloggers: Monica Dennis , Nicole Purcell , Lindsey Guerin , Chris Stocker , Carey Potash , Michelle Kowalski , Brenda Bell