Imagine - Friends, Insulin, and Blue Cookies
It's been a bit busy this week, leaving me somewhat late on reporting back on Saturday's d-group meeting to see
Breakthrough: The Dramatic Story of the Discovery of Insulin
, a special exhibit showing at the
New York Historical Society
. Since I had to work Sunday, this ended up as the total of my
World Diabetes Day
celebrations this year.
The Other Half and I made our way to the Upper West Side of Manhattan to meet Allison Blass (@amblass) and any other d-peeps who were interested for brunch at Lansky's, a cross between a diner and a Kosher delicatessen. Until the night before, I had no idea that Manny Hernandez (@askmanny) was in from the West Coast and would be attending brunch -- and the exhibit -- with us, along with Kerri Sparling (@sixuntilme) Steve Woodruff (@swoodruff), and Karen Graffeo (@Karen_mst). From three people worried that we'd be able to get seated and served in time to make a 13:30 rendezvous at the museum, we became seven people at a table designed for six. The food was excellent, and we were just a few short blocks from our second rendezvous point.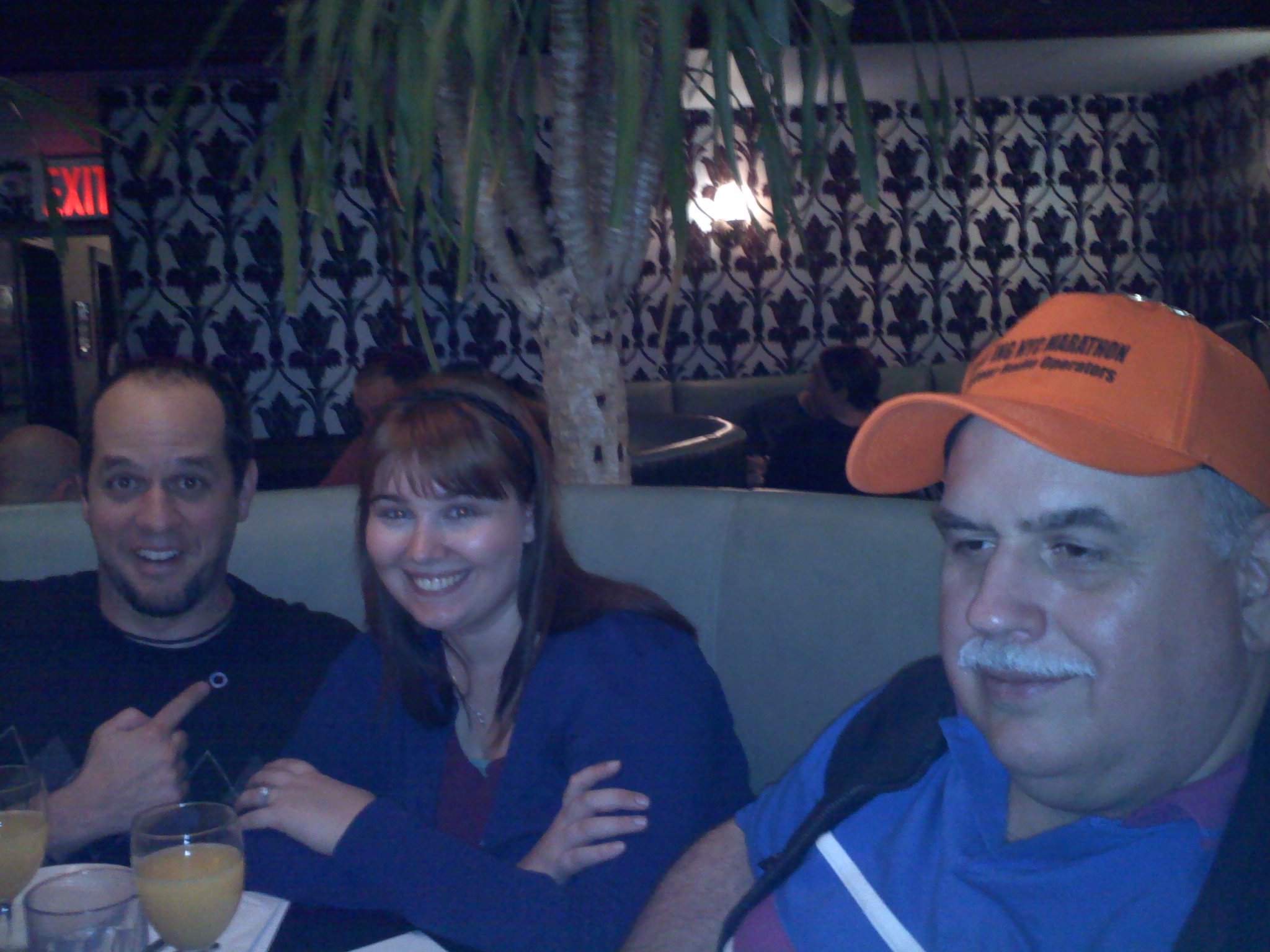 At the museum, we met up with Kelly Kunik (@diabetesalic), Caroline Sheehan (@carobanano) of Act1 Diabetes, and another couple. We were given a guided tour by one of the exhibit's co-curators, who himself has Type 2 diabetes. The exhibit, with its major sections quoting key diabetes observations and treatments by timeline, gave us a historical perspective (and some glimpses into books dating from Medieval times and from the Age of Enlightenment); meanwhile, our guide explained that the "Allen diet" was the near-starvation diet prescribed in the few years preceding the discovery of insulin, and that Banting started his research as a graduate student using university resources that lie dormant over the summer term. He also described the personal dynamics between Banting, Best, McLeod, and Collip (the four men responsible for okaying funding and resources, discovering insulin, and producing it in a refined enough condition to be used for human medical therapy). One of the displays included Banting and McLeod's Nobel Prize -- a grant that was made much sooner after their discovery than most Nobel Prizes are granted, such was the import of that research.
The next section of the exhibit led us through the first hospital-based clinical trials, educating young patients to treat themselves at home, and the manufacturing research needed to produce Iletin (Lilly's first branded insulin) in stable form, in quantities to be able to provide therapy to the large population of people with diabetes. It included many letters from children writing about how they gained the courage to give themselves their first shots, and how much their health has improved due to that insulin, and letters from grateful parents.
The final section of the exhibit displayed some of the earliest sales kits for Lilly's pharmaceutical representatives, early glucometers, and some of Banting's tongue-in-cheek cartooning, leading into the development of the insulin pump, a display of magazine covers of celebrities with diabetes, and some clips from the International Diabetes Federation's Life for a Child documentary.
Since some of our folk had to leave quickly after the tour to prepare for that evening's Promise Ball, we didn't get a chance to all sit down and discuss the exhibit over coffee and home-made World Diabetes Day cookies. The offer was made all around, some were eaten; some were taken and saved for later; the remainder were placed in Manny's care and brought to other World Diabetes Day events.
After that, the remaining group made our way to Strawberry Fields, where we took photos by the John Lennon memorial. As I set out to prove to Allison that it was possible to take a picture of several of us with minimal "guest" appearances from other people nearby, I suggested to Manny that we use "Imagine" as a theme for us this World Diabetes Day.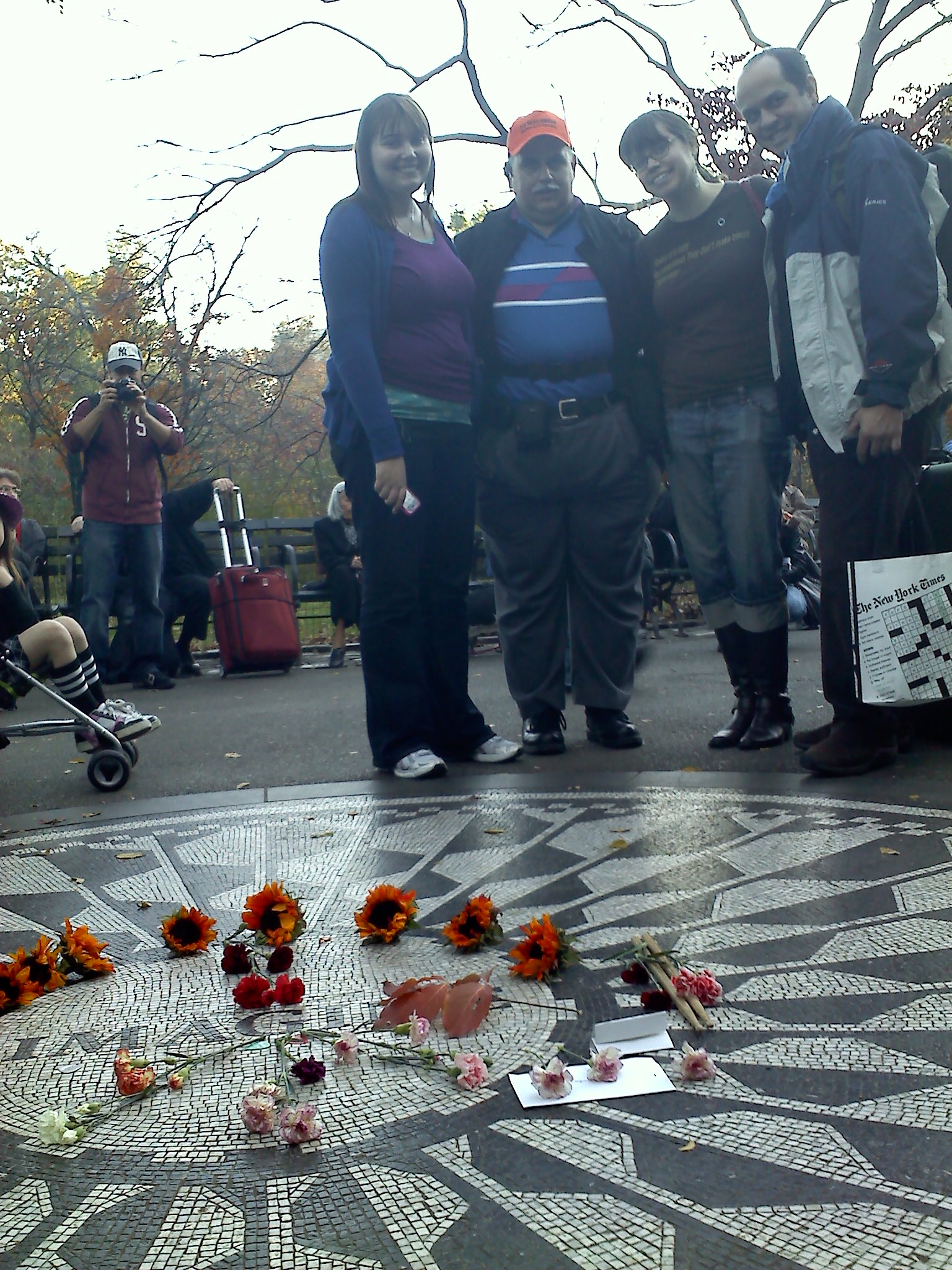 Imagine... a life without diabetes.

Imagine... a time in which there is a cure for every type of diabetes.

Imagine... a world in which every person who needs it has access to sufficient insulin to meet his metabolic needs, and does not need to sell it (or risk his family's selling it or his neighbors stealing it to sell) to have something, anything, to eat.
Email this
Megan Holmes
Megan was diagnosed in 2009 with Type I. As an RN, she was familiar with the medical side of her diagnosis; learning to be a good patient on the other hand, was and continues to be the challenge of her day to day life.
(Read More)
Max Szadek
Wellness With A Wow
(Read More)
Our Other Bloggers: Monica Dennis , Nicole Purcell , Lindsey Guerin , Chris Stocker , Carey Potash , Michelle Kowalski , Brenda Bell